We here at Parravani's are passionate about our ice cream and also how we get this to your home. We understand that with busy lives knowing how and when you will receive your order is important. To ensure you know how and when to order we have a very simple nationwide delivery service.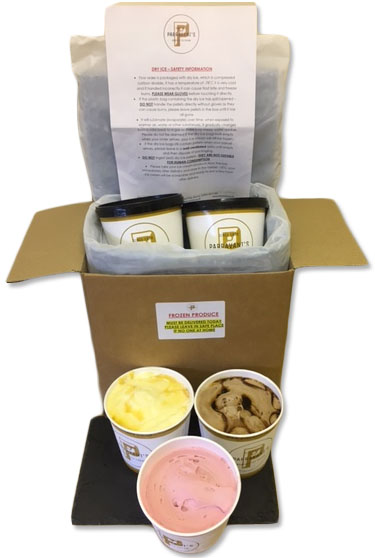 Free Local Delivery
If you live near our factory then we can deliver both Ice Cream and Patisserie items to you directly. Deliveries will be carried out by a Parravani's driver. There is a minimum order value of £15.
We currently deliver to selected postcodes in these areas.
If you live outside these areas or your postcode is not covered then you can still get home delivery using our nationwide service.
Nationwide Delivery
 If you are from further afield do not worry – we can still offer you our lovely ice cream products for home delivery anywhere in the UK. We charge a delivery fee of £11.00 and there is a minimum order value of £28.
As a company we care about the environment so your order will be packaged in a fully recyclable cardboard box which is lined with thermal recycled denim which is also biodegradable. This is then packed with dry ice ensuring you order will be frozen and protected on it's journey. Our delivery partner is DPD, deliveries will be tracked as soon as they are collected from us, they will keep you updated with the expected delivery day and time via text and email.
Here at Parravani's Ice Cream we dispatch our produce on a Wednesday or Thursday ensuring you receive your delicious dessert within 48 hours. To ensure the produce is kept frozen and has a safe journey, your order needs to placed by 2pm on a Monday so our dedicated team have time to pick and pack your order.
If you happen to miss the cut off time don't worry, your order will be dispatched the following Wednesday.